December 29th, 2013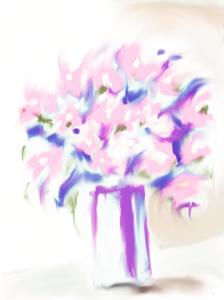 I visited with my cousin over the holidays - he had traveled in from San Francisco where he now lives. Among other topics, I started talking about what wonderful art can be created on an iPad. More specifically, I was describing my new fascination with the ArtStudio app, which is like having Photoshop on your iPad. ...all for $4.95

My cousin then informed me that there was an artist - David Hockney - currently on display at the DeYoung Museum in San Francisco for the art he created with an iPad. (see http://hockney.famsf.org/hockney-about for more info ) I was really surprised to hear it and it really affirmed to me the value of this kind of digital work.

Digital work often gets devalued by critics and/or purists - mainly because the hand-made factor is not as strong and there are countless filters one can use at the click of a button that require no artistic skill.

While this has some truth in it, there is another aspect about digital art that often gets overlooked. And that is the sheer number of tools set in front of a digital artist. The number of possible choices and decisions given for any piece is staggering. So there is an inherent improvisation and focus needed in digital work that often gets overlooked or devalued.

And now the iPad brings the focus back around to the hand-made aspect. The pad itself makes it harder for critics to claim that the hand-made element is lacking merely because it is digital art. It Must be hand-drawn on the iPad. There is no other way. So scream about the digital filters all you want - the hand-made aspect is clear with the iPad and it is here to stay.
December 5th, 2013
I have found more and more lately that simply having fun is often the key to making good art. I think the words 'success' and 'failure' are very relative terms and one can really get way off course by worrying too much about success and failure.

One way to counter these worries I am finding is in taking and finding the opportunity to use your "leftover art" - or let's just say, art that didn't "make the cut" etc). Some of this requires a good image editor - Photoshop is the ideal but PS Elements is good I hear as well.

For instance, I had several watercolors on aquabord that had 'bitten the dust' as it were. Well, I had just browsed some textures online and even bought some - but the thought popped into my head 'I can do that !' No this isn't A Chorus Line ! ;)

But seriously, I realized I could use the aquabord to create my OWN textures for Photoshop ...All of the sudden, trash turned into treasure.

And it became FUN instantly. I worried less about the finished product and walked away when it was time.